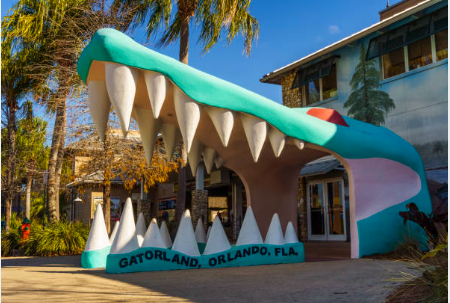 Located just a 25 minute drive from Hills Bay Hideaway, Gatorland Orlando, is a unique destination that offers a thrilling experience for tourists and holidaymakers alike.
One of the most popular attractions in Gatorland is the Gator Jumparoo Show. This show features giant alligators and crocodiles jumping out of the water to catch their food, while trainers provide information about the animals and their behavior. Visitors can also witness a breathtaking display of reptile agility and strength with the Up-Close Encounters Show.
The Screamin' Gator Zip Line stretches across 1,200 feet and offers a panoramic view of the park, including the alligator breeding marsh and bird rookery.
[wpdevart_youtube caption="" align="center"]d0UImYHuXjU[/wpdevart_youtube]
For those who are brave enough to want to get up close and personal with the alligators, then there are even opportunities to just that. Visitors can purchase "Gator Chow" and feed the alligators from a safe distance.
Gatorland is an excellent destination for families with children, thanks to the many activities and attractions that will keep everyone entertained.  Check out the Gatorland website for up to date information and offers.
In conclusion, Gatorland in Orlando is a must-visit destination for holidaymakers looking for an unforgettable experience. With its thrilling shows, zip line, and up-close encounters with alligators, it offers a unique and exciting adventure. Whether you are traveling with children or looking for a fun activity for yourself, Gatorland is a great choice for an exciting day out.
To read about more interesting attractions in Orlando check out our Hills Bay Hideaway blog.